NORTHERN WINTER READ:


JOZEF VAN WISSEM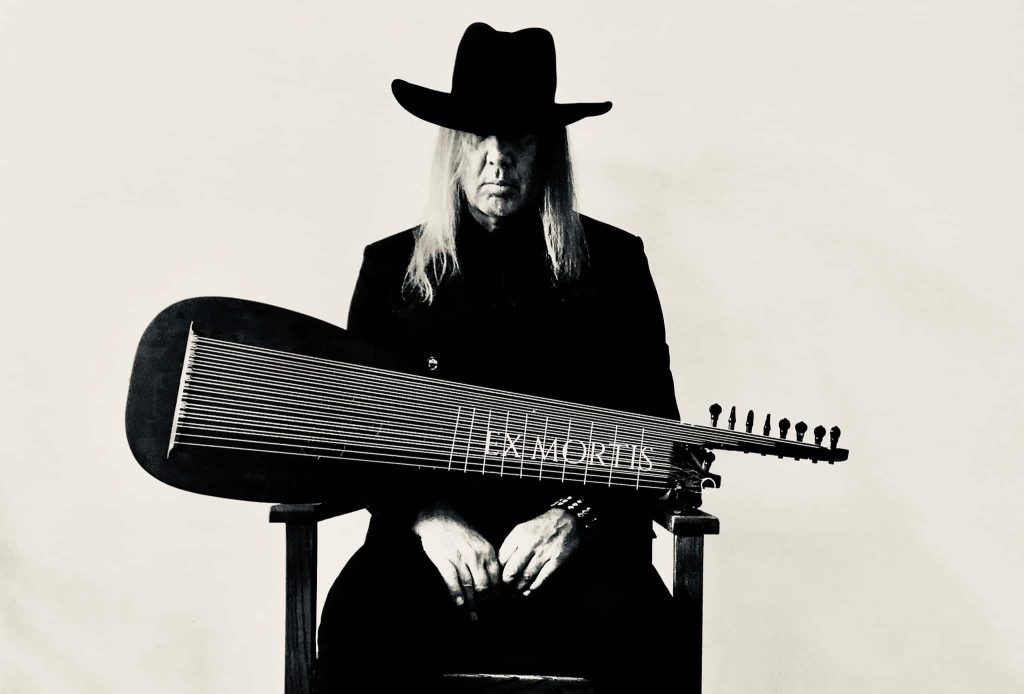 With trance as a keystone, Jozef van Wissem is on an ongoing mission to prevent the lute from certain death. At Northern Winter Beat he will open the festival with a special concert in Budolfi Cathedral. We talked with him prior to his performance.
by Mikkel Brandt
"I wanted to take the lute out of the museum and bring it to the people."
When Jozef van Wissem first picked up the lute, it didn't seem like the average choice for a young punk musician. But Mr. van Wissem isn't quite an average musician either.
"I got interested in lute music when I was about 14 years old because my guitar teacher gave me lute music to play on classical guitar."
Now, four decades later, he surely has taken the lute to places it had never been before, and on the way he has made its tones flow into computer game music, dance shows and soundtracks – including Jim Jarmusch's "Only Lovers Left Alive" from 2013.
All this wasn't in the cards when he gave up the electric guitar in favour of studying this ancient string instrument.
"Back then lute was not hip or whatever, and in a broad opinion, it sort of had this ridiculous Robin Hood image made by Hollywood. Back then, you were the village fool."
From the beginning, Jozef knew that he didn't just want to maintain some preconceived legacy. So instead of sticking to the classical repertoire, he wanted to give it his own take.
"I wasn't interested in interpreting the pieces in a purely historical way. So what I did was this very dada thing, where I wrote renaissance pieces out backwards. So that became my first compositions. They were called 'Retrograde', and they were basically just backwards versions of renaissance pieces. Everybody thought that was nuts."
He explains that he still uses this mirror image technique. For example by reversing small baroque melodies and incorporate them into his compositions.
In the late '80s and early '90s, Jozef ran a music bar in the Netherlands but says that he got sick of that life and moved to New York to start afresh.
"I lived like a monk after that because I needed to be alone and sort of reinventing myself," as he puts it.
Through an ad in the alternative New York paper "The Village Voice", he got in touch with lute player – and also ex-guitarist – Patrick O'Brien, who'd been a former student of blues musician Blind Gary Davis.
"He was such a personality. And one of the first things he told me was that if I wanted to make a living out of playing the lute, I had to write my own pieces. That opened it up for me."
This advice stood in sharp contrast to the strict approach he had met from his former teachers, where experimentation and improvisation were not well regarded.
"In the early 90's I was very influenced by transcendental and experimental music. I was, for example, listening to Coil a lot. That influenced me more than anything."
Soon Jozef van Wissem will be back with a new album named "Ex Mortis".
Those two words (meaning "from death") are inscribed on the neck of his lute and refer to the renaissance of the Baroque Lute during the 1920s – led by the German Wandervogel movement (https://en.wikipedia.org/wiki/Wandervogel). A back-to-nature youth community who protested against industrialization by embracing activities such as countryside hiking and communing with nature in general.
Before that, the lute had almost disappeared for 200 years.
"I have a theory that it disappeared because it became too complicated. The makers were building bigger lutes with more strings and experimented with tunings. And I think it disappeared because it was just too difficult to study and play it. And I guess the piano took over. Also besides that, they are fragile instruments, so there aren't many ancient copies left. They are all destroyed. But then it came back at the beginning of the 1900s in Germany during the Wandervogel movement. It was the beginning of the comeback."
"Ex Mortis" is out February 7th and is thematically inspired by "The Booke of Gostlye Grace" by the German nun Mechthild of Hackeborn and her sisters.
The book was written in the 1290s and contains Mechthild's visions and dialogue between herself and God – which Jozef describes as "an intensely religious, but also erotic relation."
"It's really beautiful, intense writing, often written in a trancelike form."
This material lays the lyrical foundation of the album, which also features Thor Harris and Jarboe (both with a background in Michael Gira's band Swans). And Nikolaj Komiagin of Shortparis, who played at last year's Northern Winter Beat, sings on the first single from the album, "Cold Corpse".
"Trance" is a central word in Jozef's musical universe, and he explains that he likes to use repetition as a musical gateway to a trance state for both himself and the listeners. This can, for example, take form as small melodies or themes that are repeated over and over to gain a transcendental effect, where the sense of time is lost.
"The sound can be quite diverse, and I love to play the same pieces again and again, and hear how they sound different in different rooms. Sometimes I play on stages infuriated with a lot of smoke. It sort of becomes this metal thing. And there can be low-end feedback from the bass. Then it's almost like a Sunn O))) show.
Backed by that quote, we're not afraid to say that transcendental lute music never has sounded so interesting, as it does when Jozef van Wissem plucks the strings.
Experience Jozef van Wissem at Northern Winter Beat 2020, January 30th in Budolfi Cathedral.